Sorry for the late entry folks.  A bad case of writer's block and a family "thing" held me back from getting this done a little earlier than I usually like.  But here we are.  It's Tuesday, it's getting posted and all is right with the world.  I can't even believe I said "writer's block".  It is so strange to me to think that I am someone that actually faces something like that!
Here's your news:
CELEBRITY NEWS:
Gilbert Loves the Vets:
What you may not know about realize about Brantley Gilbert is that he was studying to become a marriage counselor before he decided to go after his country music dreams.  It appears that this skill is coming in handy.  Gilbert is a very vocal and active supporter of the troops overseas as well as veterans.  He was quoted as saying, I invest in relationships so once I care about somebody, one I give a s**t about somebody, I like to keep up with them and make sure they're okay the best I can."  Many of the people the Gilbert has been in contact with are suffering from PTSD.  The singer finds himself having late night phone conversations about things that are often hard to talk about.  Gilbert admits that taking the focus off of himself for a while is good for them and good for him too.
Dear Trisha:
Trisha Yearwood just celebrated receiving a star on Nashville's Music City Walk of Fame with husband Garth Brooks.  While at the ceremony, Yearwood offered some words of wisdom to the young ladies who are aspiring to be country singers, the most notable of which was the importance of being unique. Yearwood told one media outlet, "I think women actually have an opportunity.  My advice would be just be true to yourself and be you."  Contrary to Jason Aldean's belief that female artists have a difficult time achieving success is because they all sound the same, Yearwood argues that it hasn't always been easy for guys either.  "It's hard to be unique, especially for guys.  When I was first starting it was whether you wore the hat or didn't wear the hat.  It was really hard to distinguish yourself."  Thanks for clearing that up, Trisha!
COUNTRY FASHION:
Whether it was in the 1950's or last week at a country music concert, it is undeniable the plaid shirt is an important part of the western wear wardrobe.
The word "plaid" originally referred to a kilt or blanket that was worn in Scotland to ward off the elements.  "Tartan" was the word that was used to refer to the pattern of the fabric, which was associated with a clan or geographical region.  Tartan prints were forbidden in Britain during the 18th century because of the association with the Scottish Rebellion of 1745.  It didn't become legal again until 1782.
During the 19th century, the pattern came from Europe to the US and it became called "plaid" which is how we know it today.  In the 1850's , Woolrich Woolen Mills created "Buffalo Plaid" which is the black and red checked pattern that is mostly associated with lumberjacks.  Throughout the early to mid 1900's, plaid and plaid flannel were very popular but when Pendleton released a female version of the Buffalo Plaid, the pattern really took off.
During the 1970's, plaid came in all forms, from fashion to interior design.  When Daisy Duke wore her "Daisy Dukes" with a plaid shirt knotted above her naval on The Dukes of Hazzard, the plaid shirt all of a sudden became sexy.  While this was happening, punks in the UK were wearing plaid in layers that were ripped in shredded giving plaid a more rebellious tone.
From grunge to high fashion, plaid has become a mainstay in popular culture for both socialites and cowboys alike.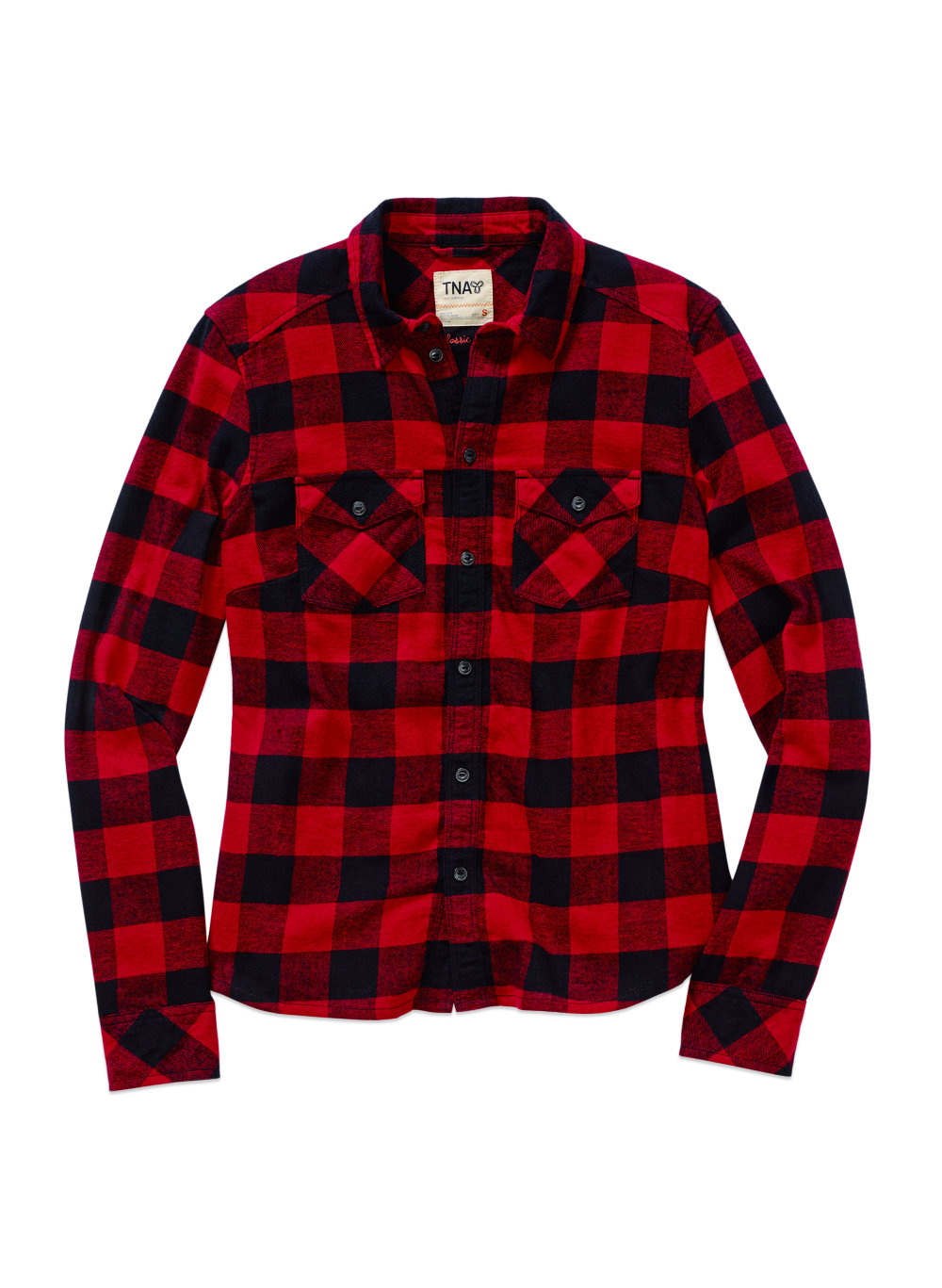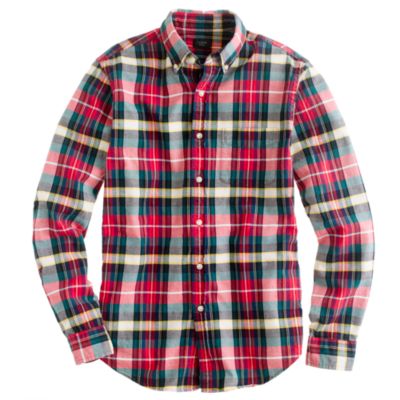 COUNTRY MUSIC:
I first met Jason Kirkness outside of my building.  Stranger yet, he actually lives in the building.  We chatted about country music, but what he failed to mention was that he was an accomplished musician in his own right.  That's ok, I found out on my own.
Jason is from a small town south-east of Winnipeg, Manitoba called Kleefeld.  When he left the small town, the population was only about 300.  He had a very interesting moment while playing at Tiger Stadium a few years ago.  He realized that the size of the field was about the same size as his town.
This was a great place for us to start.  I already knew that he had performed a lot.  I asked him what one of the most memorable performances he's ever done had been.  Without hesitation, he replied, "(Dauphin) Country Fest this year.  It was truly one of the highlights of my life.  I got to do the Song Writers Circle.  Wendell Ferguson hosted it and the first guy in the round was Charlie Major. And then I sang.  After me were Brett Kissel and Gord Bamford."
It was obvious that Jason is proud of his accomplishments, even though sometimes he may try to downplay the size of them.  I asked him at what point he knew that this is what he wanted to do with his life.  "It sorta happened by accident," he started.  "I still haven't actually decided that this is what I want to do with my life, it's just the thing I have been doing, I guess."  He then told me the story of where it all began.  "Me and my buddy, we were 13 years-old.  I got a guitar, he got a drum set.  We ended up playing Johnny Cash and CCR covers with his Dad in the garage.  We would work all day on the honey farm and then sing all these songs.  After his Dad would go to bed, we would play Nirvana songs and The Doors and just try to make music."  He did this through high school, albeit with a different drummer.  When he was 21, he started a cover band and they played classic rock in different venues across Western Canada.  He worked at the Pyramid Cabaret in his downtime so he was always around music.  "15 years and 2 albums go by and you think, 'I guess I'm a professional musician.'"
As they toured the country they had requests for Bad Company and Trooper, but they also had requests for songs like Fishin' In The Dark.  They had started adding country songs in their set list somewhere around 2002.  "We started getting requests for CCR.  I was like, 'Don't worry guys.  I got this.' because I've known all these songs since I was little.  Playing the Johnny Cash songs, I didn't know other people wanted to hear them." Somewhere between 2004 and 2005, Jason had switched gears.  "I ended up with no more classic rock band.  I was like, 'I'm done with you guys' and I started a country band.  I had written some songs and stuff so we played that and we played some of the hits."  The rest, I guess you could say, is history.
Because of Jason's involvement in the music scene, I was curious to know what he would be doing if he wasn't "doing" music at this point.  He answered, "I think a lot of the things that I already do besides being an artist.  I produce records for other artists and I'm helping an R&B soul singer with all of the stuff for her that a manager would normally do."  What was very surprising is Jason's other passion.  "I like photography.  That's probably my big hobby.  I've invested way more money in to photography gear than in to music gear."  I looked around his apartment.  I couldn't help but notice that despite his passion, there was no artwork on his walls.  So I asked him why.  "It is definitely a more personal thing," he started.  "You know I post photos all the time but the ones I take that are my artwork photos, I don't think I've ever gotten around to posting anything like that."
I found it interesting that he says photography is so personal, especially considering he is a song writer and a song like "Leavin'" was about a particularly difficult event in his life.  I asked him if this was indeed the case for him when it came to photography, what the difference was between song writing and taking photos.  He paused for a moment and chose his words carefully.  "That comes down to a philosophy, I think.  Because music has been my job for such a long time and pretty much my entire social circle is musicians; keeping in mind that it's the coolest job ever – but it is my job, when I write a song or pick a new cover song to add in our set list, I'm thinking of everybody else.  I'm thinking about how to make other people happy."  He came back to photography, "I've been lucky enough that I've shot for Men's Health and TSN photography-wise.  I've had some photos published professionally.  I shot a bunch of photos for a band called The Color.  They went on to be quite successful.  I'm proud of those sorts of accomplishments."
Jason has spent some time in the US pursuing his career.  I asked him what he felt the differences between the American and Canadian country music scene was.  He replied, "Canadians relate to artists a lot differently than Americans do.  Americans want to have stars.  They want to have tiers and levels.  It's, I think, why American Idol really works.  It quickly elevates someone in their status.  I don't think Canadians have a high priority on someone being famous or not.  I think it really shows in how much freedom  as an artist within a genre you have.  For American artists, if they have a hit song that sounds a certain way, they're gonna keep tightening the pigeon-hole.  I think a Canadian audience will be more like, 'That's cool and all.  But what else?'"
We had already spoken about memorable performances.  So I decided to ask him about the strangest performances he ever performed.  He laughed and took a few moments to think about it.  He had the first one.  "We used to not necessarily play in very nice places.  I'm thinking it was the early 2000's in a town where they have a bad reputation.  A young lady was on the dance floor and without missing a beat, she urinated in her pants, which were white pants, and threw up and didn't stop dancing."  We were laughing but I couldn't help but ask what he did.  "Nothing!  I did nothing!  The thing was that same night there they had Foxy Boxing, except they didn't have the oversize novelty gloves.  They just had 2 girls, 3 minutes, punching each other."  I was kind of left speechless.  He went on to tell me about a concert that they were doing at a local attraction. "Canada Day about 5 years ago we played at The Forks.  I was the band before the WSO.  So keeping in mind it's not like now where everybody listens to country music.  It was still like, 'You like country.  You certainly don't.'"  Jason told me more of the story, "There was about 20,000 people but there was nobody on the concrete.  There was 20,000 people and they were all 200 feet away."  But in true performer fashion, the show went on.
It is difficult to imagine what it would be liked to be placed in a position like either of these.  I asked him how he knows if a show was successful.  He laughed, "You mean besides Twitter?"  He continued, "I like the bad Twitter comments.  Those are always my favourite ones.  I think if you have a crowd of people who are cheering and happy and then a few people who say negative things, I think you did your job.  If everybody's just kissing your ass about it then it's not going to get any better."  I asked him if he ever left the stage thinking he hadn't done a good job.  He quickly answered, "That's pretty much how I feel after every one."  I found this surprising and it led to a whole other discussion.  Jason does consider himself a perfectionist and "particular".  His apartment is cleaner than any guy's apartment I have ever been in, yet said he could point out several things that could have been adjusted.  He then said, "Being a perfectionist makes it very difficult to release records."
Jason is a jack of many trades, including doing sound at The Hub at The University of Manitoba.  When I asked about the last photo he took on his phone, he said (of course), "A band that was playing at The Hub at The UofM.  And a sound board. And a 'selfie' backstage at Cowboys." He even showed me some video of the band at The UofM.
He is currently making a video for a cover of Folsom Prison Blues.  He has a full length album that he hopes to release 3 new singles from over the next year.  He was ready to release it then had some things go on in his personal life and he wanted to be able to dedicate the time to it that it deserved.  He said, "I'd rather have 11 great songs. Not 1 song and a bunch of s**t you don't want to listen to."  I appreciated his candor.  He is most certainly a funny, interesting and charismatic guy and it is easy to see why he is so good at his job.
You should definitely go and pick up his latest album "One More Night" at noisetrade.com/jasonkirkness/one-more-night.  It is fantastic!  Visit his website http://www.jasonkirkness.com/ and like his Facebook page (https://www.facebook.com/JasonKirknessMusic).  For now, please enjoy "Take Your Picture" by Jason Kirkness: